16 Nov

STYLE builds the future!
'STYLE is building a new lcoation at the Haarbrug-Zuid, ready for the future!'
STYLE CNC Machines, a true company from Spakenburg, The Netherlands, is going to move to another location within the community. STYLE has bought a location at Haarbrug Zuid and is going to build a new building here. With the purchase of this location, a special and innovative company will remain within the borders of Bunschoten-Spakenburg and in the Netherlands. The new STYLE head office will be the face of the village.
STYLE is a flourishing company and has grown "out of its jacket" in the current 2300 m2 building at the Nijverheidsweg 15 in Bunschoten. Over 25 years, STYLE has grown into a hard-working, internationally operating company with several locations around the world in the construction of high-quality CNC machines, the development of its own CNC control system and an internal R & D department. Passion, pride, loyalty, begin proactive and pleasure are of great importance and are promoted daily by the employees. STYLE is an unique company: THE CNC machine manufacturer in the Netherlands. Distinctive with the self-developed STYLE CNC control system, where accessibility and speed for the production of single pieces and small series are the key factor. Next to the head office in Bunschoten-Spakenburg, there are also locations in Belgium, the Czech Republic and in Poland and Germany. In the BeNeLux alone, there are over 1500 STYLE machines. Due to the enormous growth in the recent years, this space is already too small.
On the new location we will build a new building of 6000 m2. The new building will house an experience center over 350 m2 where practically all CNC machines and the unique STYLE control software can be viewed, tested and experienced. The factory will be fitted with the most modern production and assembly techniques. STYLE expects to start construction in early 2019 and hopes to move with all employees in 2020 to the new building at the Haarbrug Zuid in Bunschoten.

Bastiaan Clement, managing director of STYLE CNC Machines, explains the reason for the move: "It is simple, autonomous growth and expansion abroad have grown STYLE strongly. The new building will become larger, more efficient and above all in a beautiful location. The head office is two and a half times as big as the current location and is the view of the village. STYLE develops CNC lathes and milling machines with our own unique CNC control software in collaboration with its customers. In the future we will expand our field of work even further and our new location offers all the space. STYLE is proud of the opportunity to stay in Bunschoten-Spakenburg and to work in the new building in a prominent place."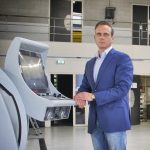 Bastiaan Clement, Managing Director STYLE CNC Machines