07 Aug

Developments STYLE R&D Product
Developments STYLE R&D Product
Our Product research and development team is continuously working on developing our CNC machines into better CNC lathes and milling machines. They want to highlight some of the special projects they have been working on.
The BT4000 FE CNC milling machine
The R&D is very proud of this unique milling machine: the BT4000 FE (Full Enclosed). This is the biggest fully enclosed machine that we have produced so far. We have delivered this machine to a German customer: CvG Zerspanungstechnik GmbH who have their main focus on the production of small and middle size series and on manufacturing assemblies such as hydraulic cylinders.
The STYLE 2280 (3000 dbc) CNC lathe
Another big project our R&D worked on is the STYLE 2280 CNC lathe. This lathe with a distance between the centers of 3000 mm is the biggest lathe with this kind of turning diameter we have ever built so far. They have worked intensively with the customer for over a year to come to the perfect machine for their products namely composite industrial components. Our assembly team made the machine in only four weeks time.
The SMTS – STYLE Modular Turning System
This one-of-a-kind project for our customer Bunge from Amsterdam the team has created a unique product. Bunge Netherlands is a company that is a processor of oilseeds.
The soybeans are crushed on rollers into 'flakes'. Soybeans are a very hard product which causes the rollers to wear very quickly and to wear uneven. The rollers are now ground, which is a time-consuming and uncontrolable process.
A year and a half ago we took on the challenge with Bunge to develop a CNC turning machine that can be placed on the existing rolling units. The aim was to machine a roller in a straight line and parallel to the other roller within 2 hours in a controlled process.
After a year of development and half a year of testing and further development, we have successfully completed the machining tests and have delivered the machine with success to the customer.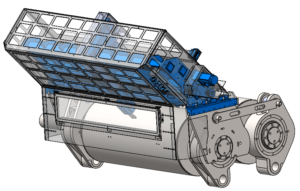 The SMTS consists of a solid welded frame with linear guide and a double z-support to process the front and rear rollers of the roller unit.
The SMTS consists of a solid welded frame with linear guide and a double z-support to process the front and rear rollers of the roller unit. Both Z-supports have their own Z-axis ball screws that are controlled by one FANUC servo motor. KM linear actuators from PMI are mounted on the Z-support base plates. These actuators are equipped with linear guide and ball screw in one unit for the minimum installation space required. U-shaped milled plates are mounted on top of the linear actuators to create X-supports that are as strong and stable as possible. On the ends of the X-supports, a STYLE quick change system with an air-cooled Boremeister vibration-free bar is mounted with a Double-sided trigon CBN insert from Tungaloy Benelux b.v.
This entire construction ensures stable machining of difficult-to-machine rollers within the set time. In addition, the machining interval is increased and the rollers last twice as long. All in all a very satisfied customer!